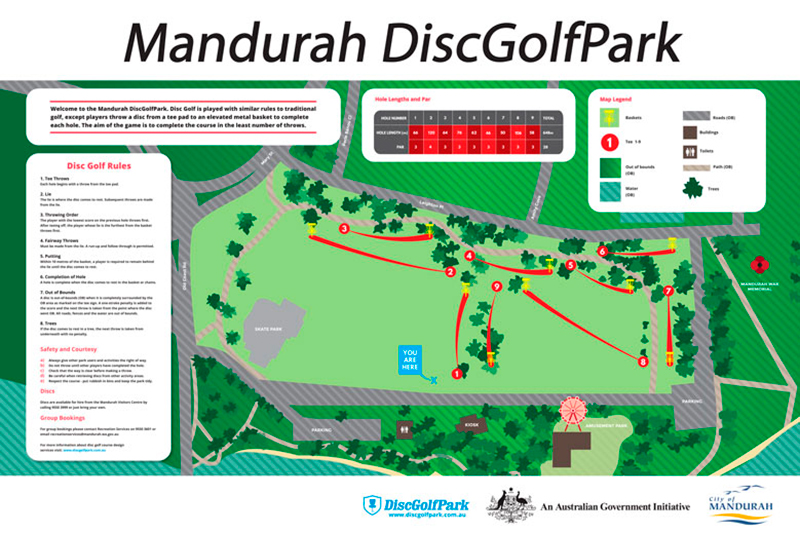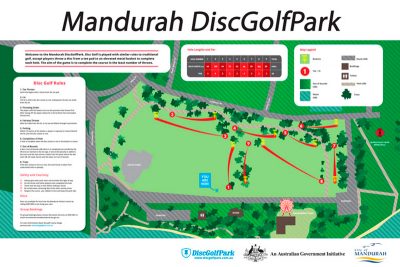 The Mandurah Disc Golf Park is set on one of the most prime real-estate locations in all of Western Australia. Situated on the western foreshore in Hall Park, the course takes in views of the popular sandy beach and the main street of Mandurah.
The course conveniently begins at the carpark, wrapping around the gardens to incorporate the nearby skatepark and amusement park. The course was developed by the Mandurah City Council as a way to activate park space and encourage its use by the community.
Funded in part by the Government of Western Australia Department of the Attorney General, the course is the ideal facility for people new to the sport of all ages and abilities. This is a beginner friendly course with a couple of longer holes to test out your skills, open and windy in the afternoon you might need some stable discs.
Targets: DiscGolfPark Target
 LOCATION
25 Leighton Place,
Halls Head
WESTERN AUSTRALIA  6210

  MEET THE DESIGNER