A FUN FAMILY ACTIVITY
Disc golf is a healthy lifestyle activity, perfectly suited for people of all ages and abilities. It can be enjoyed both individually as a recreational sport and played casually with family and friends. With similar rules to traditional golf, players throw specially designed golf discs from a tee area into an elevated target basket. With over 8000 courses now found in more than 40 countries, it is one of the fastest growing sports in the world Disc golf is a passive sport which provides low impact, aerobic exercise – all whilst connecting people with nature. The unique challenge offered by disc golf helps diversify the recreational opportunities available for local communities. As a low-cost entry sport that's easy to begin playing, disc golf is suitable for a wide demographic from all socio-economic backgrounds. Disc golf provides participants with a walk in the park with purpose. Many people find themselves "hooked" on the sport, playing regularly to hone their skills and enjoy both the positive social and physical health benefits it offers. It takes only one hour to learn, but a lifetime to master!
WHO PLAYS DISC GOLF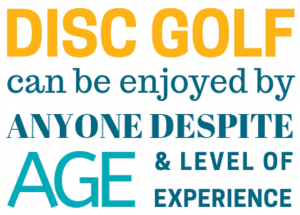 Disc golf can be enjoyed by anyone despite age and level of experience, providing an inexpensive means of fitness for life. Disc golf is so easy to learn. Therefore, no one is excluded, making it an excellent choice for families to enjoy together. The Professional Disc Golf Association, with a member base of over 115,000, is the governing body for the sport and sanctions competitive events for men and women of every skill level from novice to professional. In 2018, PDGA memberships grew by 13.13% to 46,457 active members. Whilst male participants make up 92% of the total membership base, female participation has increased by an astounding 300% over the past decade, with a modest 906 female PDGA members in 2008, growing to 3619 members in 2018.
GROWTH
The past few years have seen huge growth in disc golf participation, with more and more courses, clubs and people casually playing the sport all over the world. There are now over 8,000 courses and over 20 million regular players made up of an exceptionally wide and diverse demographic.
GROWTH & PARTICIPATION IN AUSTRALIA
In Australia, disc golf is experiencing significant growth. There are now over 70 courses in the country, with more than half of these courses installed in the last 5 years alone. Our RAD designers have been responsible for 90% of the total course development. With this increased accessibility to the sport, participation in disc golf has grown dramatically in a short period.
Disc Golf Courses in Australia
The service provided by the team at RAD has been excellent, from the initial consultation to the detailed planning of the course. They were able to maximise the space at Christian College Geelong and provide an excellent course.
DiscGolfPark have designed a fantastic 18 tee course at Tintinara incorporating the features of the natural landscape. It is a great playing course for all ages and skill levels taking in lake views and walking trails through the native vegetation. The DiscGolfPark staff were exceptional in their knowledge of the sport and course design.
They were also very helpful, timely and supportive every step of the way regardless of distance, ensuring the equipment was of high quality and the installation process was trouble free.  I highly recommend DiscGolfPark and look forward to the growth of the sport and more courses being developed in South Australia"
Disc Golf is a sport that is experiencing phenomenal growth across the world and especially in Australia and the City was proud to support this project. Chichester Park Disc Golf Course is another example of the City's commitment to fostering active and healthy lifestyle opportunities for the local community.
It was great working with Andrew and the team. They designed a great course that looks and plays amazing. Campers have been enjoying the challenge and flexibility of the course. Highly recommend Andrew to everyone.