Disc golf is one of the fastest growing sports in the world, with over 7000 courses now found in more than 30 countries!
Disc golf is played with similar rules to traditional golf, except instead of hitting a ball into a hole, players throw special golf discs from a tee area into an elevated target basket. It's a healthy lifetime sport, perfectly suited for people of all ages and abilities and is enjoyed both individually in competition and played casually with family and friends.
Disc golf is a passive sport which provides low impact, aerobic exercise – all whilst connecting people with nature. As a sport suitable for all generations and socio-economic backgrounds, disc golf helps diversify the recreational opportunities available for local communities. It takes only one hour to learn, but a lifetime to master!
Disc golf courses are permanent, self-sustaining facilities that can be installed just about anywhere from public parks and reserves to camps, schools, resorts and golf courses. Participants bring their own discs or hire them locally and play together with family, friends or individually at a time that suits them.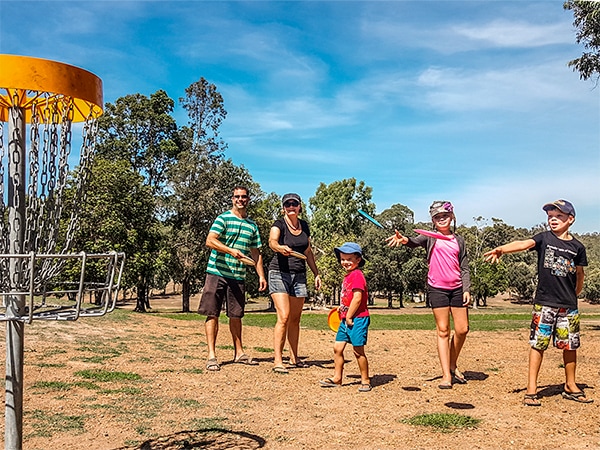 Key insights on how a disc golf can benefit communities:
• An ideal way to help build communities through participation
• Engage the community in a healthy, outdoor activity
• Activate underutilised space with a safe, self-directed activity
• Diversify recreational opportunities with a unique sport
• Foster the growth of local disc golf clubs with a lifetime sport
• Increase participation rates with a facility that safely supports dozens of participants
• Connect people with nature through a sport that is inexpensive to play
A disc golf course can be installed just about anywhere and requires as little 3-5 hectares. Disc golf utilises space and activates an area, but doesn't need to be exclusively for the sport. Instead, a course can integrate with other park users and existing passive activities in the area, helping to connect the park facilities and encourage visitors to explore the area. Most courses are usually made up of 9 or 18 holes. These can range from short courses in local parks with an average length of about 60 metres, right through to longer courses with holes lengths over 200 metres.
Disc Golf Courses in Australia
The service provided by the team at RAD has been excellent, from the initial consultation to the detailed planning of the course. They were able to maximise the space at Christian College Geelong and provide an excellent course.
DiscGolfPark have designed a fantastic 18 tee course at Tintinara incorporating the features of the natural landscape. It is a great playing course for all ages and skill levels taking in lake views and walking trails through the native vegetation. The DiscGolfPark staff were exceptional in their knowledge of the sport and course design.
They were also very helpful, timely and supportive every step of the way regardless of distance, ensuring the equipment was of high quality and the installation process was trouble free.  I highly recommend DiscGolfPark and look forward to the growth of the sport and more courses being developed in South Australia"
Disc Golf is a sport that is experiencing phenomenal growth across the world andespcially in Australia and the City was proud to support this project. Chichester Park Disc Golf Course is another example of the City's commitment to fostering active and healthy lifestyle opportunities for the local community.
It was great working with Andrew and the team. They designed a great course that looks and plays amazing. Campers have been enjoying the challenge and flexibility of the course. Highly recommend Andrew to everyone.