OUR PROJECTS
The team at RAD have designed 70+ disc golf courses throughout Australia – more than half the total number in the country. Our professional course designers are experienced in working with varied clients in diverse locations to skilfully design facilities that ensure participants of all abilities safely enjoy their experience.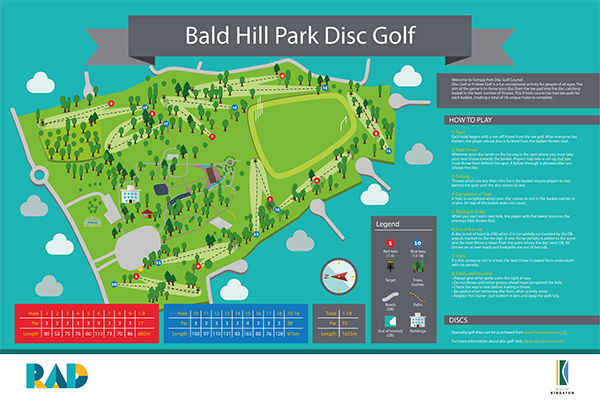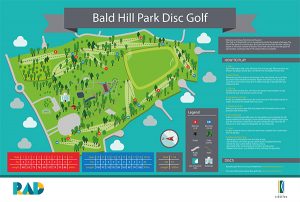 Bald Hill Disc Golf Course, CLARINDA VICTORIA
Bald Hill Park Disc Golf Course is a brand new facility in the City of Kingston. The community of Clarinda, just outside Melbourne, can now call themselves home to a top of the line disc golf facility. This 9 basket 18 tee course not only has full signage and concrete tee pads, but also boasts a practice area complete with a "how to play" information sign and practice basket – the perfect introduction for those new to the sport. This new addition to the Melbourne area will be a draw card for visitors, help increase disc golf participation and encourage members of the local community to exercise in the outdoors.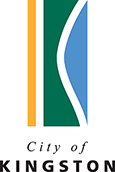 The service provided by the team at RAD has been excellent, from the initial consultation to the detailed planning of the course. They were able to maximise the space at Christian College Geelong and provide an excellent course.
DiscGolfPark have designed a fantastic 18 tee course at Tintinara incorporating the features of the natural landscape. It is a great playing course for all ages and skill levels taking in lake views and walking trails through the native vegetation. The DiscGolfPark staff were exceptional in their knowledge of the sport and course design.
They were also very helpful, timely and supportive every step of the way regardless of distance, ensuring the equipment was of high quality and the installation process was trouble free.  I highly recommend DiscGolfPark and look forward to the growth of the sport and more courses being developed in South Australia"
Disc Golf is a sport that is experiencing phenomenal growth across the world and especially in Australia and the City was proud to support this project. Chichester Park Disc Golf Course is another example of the City's commitment to fostering active and healthy lifestyle opportunities for the local community.
It was great working with Andrew and the team. They designed a great course that looks and plays amazing. Campers have been enjoying the challenge and flexibility of the course. Highly recommend Andrew to everyone.