A Closer Look At Taylor Reserve Disc Golf Park
You may have driven by Taylor Reserve in the Town of Victoria Park and wondered what those odd-looking metal contraptions are, and if so, you're not alone. Suddenly it seems that people are throwing frisbees much farther than you thought possible, and it's clear that the sport of disc golf is alive and well. As one of the closest disc golf parks to Perth and the first in Victoria Park itself, the Taylor Reserve Disc Golf Park is an ideal place to spend time with your friends and family.
Over the years, disc golf has blossomed in Australia to become a sport that's played both as a casual form of exercise as well as a more competitive type of activity. Taylor Reserve is a special course that new players will certainly want to visit and experienced lovers of the game will never tire of.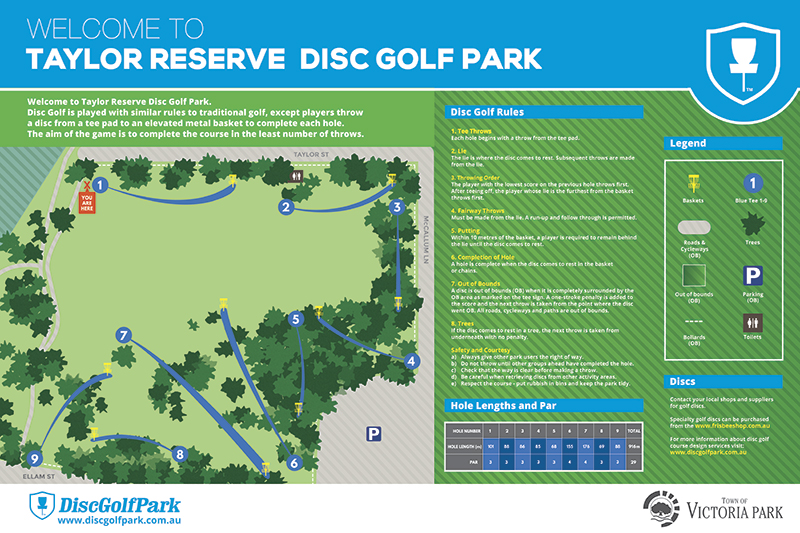 A Peek At What's In Store
Taylor Reserve as a whole is a beautiful area that's home to a wealth of outdoor activities with disc golf being just one of many things to enjoy. The course has been designed with a 9 hole layout and offers players of all abilities with a fun challenge. Between the backdrop of Perth's skyline and the variety of trees that are present throughout, it's truly a gem of Victoria Park.
The 9 holes at Taylor Reserve require a range of skill sets that make it fun for newcomers and challenging for those who are looking to shoot an amazing score. Both wooded areas, as well as open stretches of park, allow disc golfers to practice throwing longer shots as well as honing in their technical skills between the trees. Taylor Reserve is a par 29 course that measures in at 916 meters.
If you're new to the sport and not sure where to go, Taylor Reserve features tee signs that display a map of each hole and give you an idea as to where your target is. Durable Disc Golf Park Targets  are easy to see and integrate an arrow that points you to the next tee area.
The Future Is Bright
Disc golf as a whole is one of the more family-friendly sports available to residents in the area, and the Victoria Park council is well aware of the potential this lovely course harbors. There's been a recent discussion of installing new concrete tee pads at each of the holes to offer not only a more professional look but to increase the safety of your footing as you throw.
As the weather gets warmer, why not take your entire family to Taylor Reserve's disc golf course? Only a few discs are needed to start playing, and you can bring any level of experience or athleticism and still have a great time. Disc golf continues to attract more and more players each year, and it's a sport that can be enjoyed by people of all ages. The next time you're near Perth, head over to this area and see what the sport of disc golf has to offer!
Visit the RAD Course Listing