How to Promote Your Course After Installation
Course designers, like those at RAD Creations, do an excellent job of putting your needs first when it comes to the design and local advertisement of a new course. The heavy lifting is done, so where to go from there? Visionaries that are exceptionally excited about starting a new course sometimes shrink when it comes to continual promotion, but it doesn't have to be difficult.

START SMALL
Just like every other part of your plan, first focus the majority of course promotion in your own town or community.
Open the Course:

This should be easy, right? Well, it can be! Do you remember those Facebook pages and community websites you used to promote the completion of your project? Keep using those! Many successful, new disc golf courses begin with a simple Facebook page to get people interesting in visiting your course. Community pages for disc golfers made on websites can not only continue, but blossom.

Bringing Friends and Family:

When starting your promotion, think of the people that got you there. How can you support those around you like they supported you? Many who can't afford discs need help starting out. Consider spending a little extra cash to have communal discs, at least for the first few weeks.

Come and Try Day:

Invite people to find out about disc golf! One of the best ways to encourage people to support your course is to get them to try disc golf. Those who fall in love with the sport act as beacons for your course, promoting freely on various social media sites and by word of mouth.
GOING LOCAL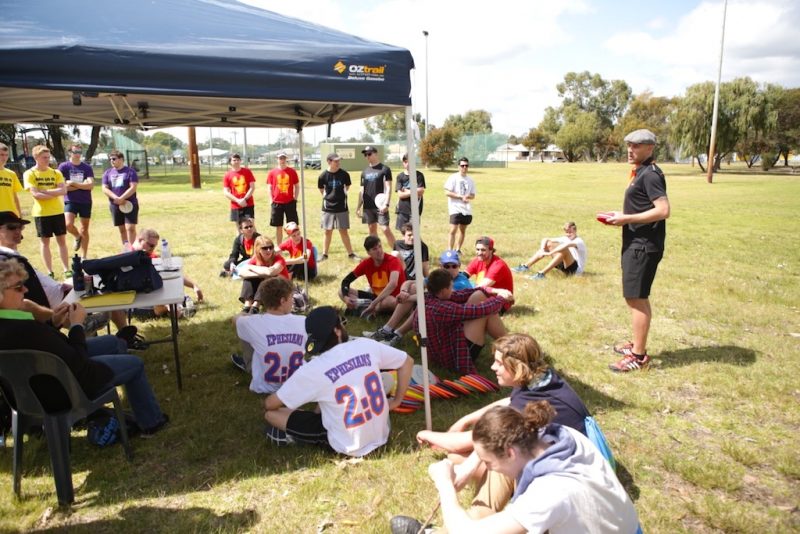 Once you've handled the basics, think about actively promoting in your community. Many websites and local outlets are perfect for bringing adults and kids alike to your course.
Schools:

Local schools are an excellent location for promotion. Even if you don't visit individual classes, setting up fliers for events and merchandise is likely to turn some heads. Advertising a family-friendly event is also a great way to involve those in disc golf. Administrators and students alike will love to see continued community support and growth.

Community Groups:

Remember when we mentioned Facebook? Well, your disc golf page isn't the only source for the community. Local organizations and businesses can post on their websites or on Facebook as well!

Local Newspaper:

Local newspapers are the perfect platforms to promote disc golf. Not only are advertisements free to cheap, they also reach people in areas you might not expect. Local newspapers are also commonly located outside shops and on the street, so anyone might see your ad!
PUSHING THE BOUNDARIES
Once your course is more established, promoting to communities outside your own helps establish your course as a destination location.
Run Leagues:

Go beyond simple advertisements by setting up a league in your area. Leagues get people interested, and establishing days for league members will promote others to take the plunge.

Run Tournaments:

Just about the ultimate goal for any disc golf community is a tournament. People from around the country come to play your game! Community support to promote a tournament is highly beneficial to them as well because tournaments promote economic upturn. How would you like your business promoted through massive visitor inflow?

The Fathering Project:

The Fathering Project is Australia-based and made for children all over the country. Through volunteers, father figures work with children to show how important fathers are to a child's life. The organization offers support for projects and events that encourage fathers to participate in children's lives, theirs and others. Check out their website

to find out how you can participate!
There are many ways to contribute to the promotion of your disc golf course, and you don't have to do it alone! Friends and family offer free advertisements through word of mouth and online. Take the time to visit local hubs, and, when you're ready, take the leap to the country!